ALUMNI MEMBERS
awards WINNERS
AWARDS NOMINATIONS
AWARDS ATTENDEES
YOUR LIFELONG CONNECTION TO AUSTRALIA
Australia China Alumni Association
Established in 2007 with the support of the Australian Ambassador to China, the ACAA now communicates with a network of over 26,000+ Australian alumni across greater China. As a non-for-profit organisation, the ACAA is funded through our university and corporate partners and is supported by the Australian Government in China.
ACAA is open to and serves all Chinese students in Australian universities and China-based alumni of Australian universities and provides a variety of services, programs and events, including its annual flagship Alumni Awards, Mentor Program and its Career Development Events. The ACAA provides a platform to showcase the contributions Australian alumni make to the various commercial, educational and cultural exchanges between Australia and China, and to help Australian alumni across China to reconnect.
What the ACAA Offers
Our platform provides support and engagement for Australian alumni in China and Chinese students in Australia in order to build a stronger Australia-China community and to showcase the strengths of Australian education.
MENTOR PROGRAMS
ACAA has run its Mentor Program since 2015. The aim is to provide a better level of support for younger Australian alumni in China throughout their various stages of career development and to build an enduring Australia China alumni community. Our Mentor Program enables mentee participants to develop professionally and personally, by growing their skills and self-awareness – all with the on-going support of a senior industry professional.
Click here to learn more about mentor program
ALUMNI EVENTS
ACAA holds various events in different cities of both China and Australia to help alumni to meet fellow alumni and to connect with their alma maters.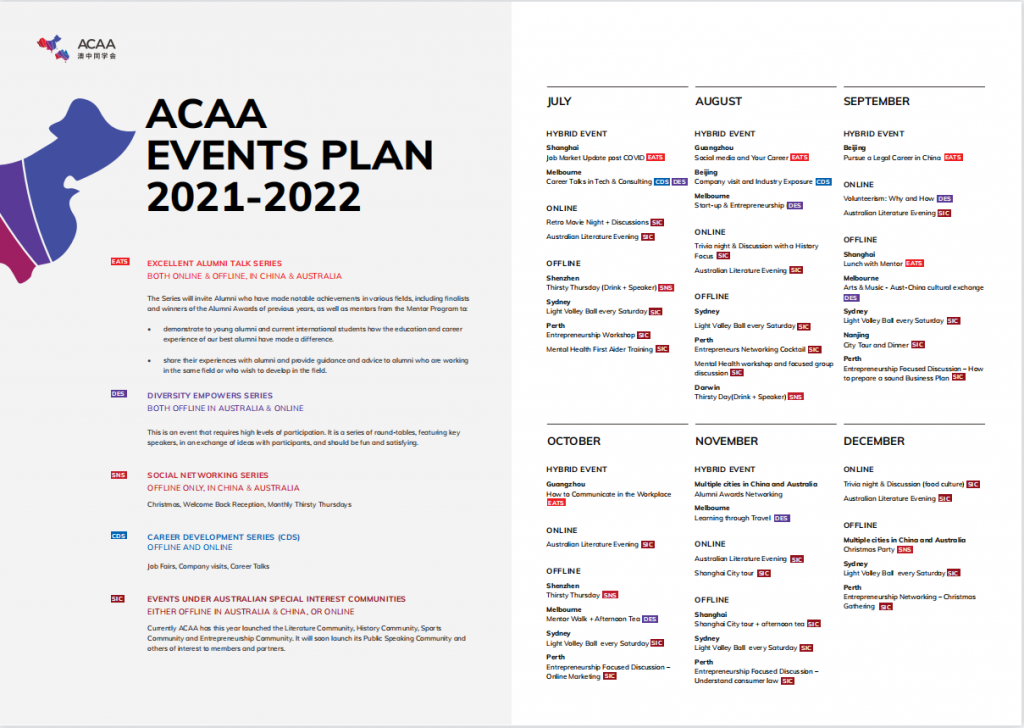 INTERNSHIP PROGRAM
ACAA has launched an Internship Program to help Chinese students studying at Australian universities obtain work experience and prepare themselves for jobs in China or Australia.
JOB OPPORTUNITIES
ACAA collects job opportunities that suit our alumni and provides a platform for companies to publish vacancies.