2022 Alumni Awards Sponsorship Package is available to download
The Australia China Alumni Awards celebrates the success and achievements of selected Chinese alumni who have studied at Australian universities and Australian expatriates living in China. Over 700,000 Chinese students have studied in Australia since the early 1970s and this large alumni cohort plays an important role in many sectors across the Chinese economy and society and in enhancing the deep people to people relationships between Australia and China.
The Australia China Alumni Awards have been running for 14 years and are organized by the Australia China Alumni Association (ACAA), with support from our Patron, H.E. the Australian Ambassador to China, and the Australian Global Alumni program.
We have celebrated more than 542 finalists and 119 winners of the Awards in the 13 years, including a number of high profile alumni from a range of organisations: the CEO of JPMorgan, Vice-Governor of Shandong Province,CFO of Tencent and Chief Engineer of Commercial Aircraft Corporation of China.
Over the past decade the Awards have been sponsored by a range of organisations such as TOEFL®, IELTS, Austrade, the Australian Embassy Beijing, CPA Australia, JJL, Telstra, Qantas, ANZ Bank and IDP Education. There has also been a high participation rate by Australian universities. This year the Awards will also be open to the TAFE/VET sector. The Awards provide a premier opportunity to engage with Chinese (including Hong Kong) alumni from a range of industry sectors and organisational seniority.
The Awards will repeat last year's successful hybrid online/offline celebration in multiple cities in China and Australia. We would like to invite your organization to be a sponsor. This year's sponsorship offers four levels – please click <2022 Alumni Awards Sponsoship package> for full details.
The Awards present an opportunity to raise your profile in Australia and China by sending your message to the extended ACAA network (currently 26,000+ members) across Greater China and Australia. Partners will be acknowledged in all promotional materials and receive valuable exposure through our six month plus marketing campaign reaching our alumni and tertiary institutions, corporate and government partners.
Articles related to the Awards attracted on average 80,000 readers per month from July to December 2021. More than 300 people attended the simultaneous ceremonies in eight cities on 28 November last year. You can find details in the 2021 Alumni Awards Report.
2022 Awards Timeline
2022 Awards Ceremony Format
The online and offline components will be complimentary and structured as listed below:  
Online:
A largely pre-recorded and edited online Awards presentation video that will profile Award winners, institutions and the alumni relationship, and highlight sponsors, with high profile speaker appearances. It will be released on the Awards night;
Offline:
2022 Awards Networking will be conducted in multiple cities in China and Australia. Cities include BEijing, Shanghai, Guangzhou, Hong Kong, Shenyang, Chengdu, Sydney, Melbourne, Brisbane, Perth and Darwin.
Award Categories
Australia China Alumni of the Year Award

Young Australia China Alumni of the Year

Australia China Alumni Award for Corporate Achievement

Australia China Alumni Award for Entrepreneurship & Innovation

Australia China Alumni Award for Women in Leadership

Australia China Alumni Award for Research & Science

Australia China Alumni Award for the Arts & Creative Industries

Australia China Community Service Award

Award for Contributions to the Australia-China Relationship (open to alumni and non-alumni, of any citizenship)
Adding your own new category? Do you want to create an Award for alumni from a certain background or region? Please contact us.
Why Sponsor the 14th Awards?
The 2022 Australia China Alumni awards offers a unique opportunity for sponsor partners. The elements of the sponsor offering are:
PROFILE – The Australia China Alumni Awards is a high-profile annual event attracting a broad range of Australian university alumni and key stakeholders in the Australia-China community. Opportunity to profile your organisation to this important cohort.

ENGAGEMENT- Great opportunity to engage with the alumni who have strong university, business and personal connections in both Australia and China. Ideal for universities to engage with their alumni in a broader community setting to celebrate success and achievement.

REACH – Due to the hybrid event format, the geographic and participant scope has broadened, allowing engagement with a large number of alumni across the Greater China region and Australia.
Media and Promotion:
 
Pre-Awards
During Awards
Post-Awards

ACAA marketing channels: newsletter + social media+ website

Yes

 

Promoting finalists, event registration and sponsors

Yes

 

Social media posts focused on awards winners and sponsors

Yes

 

Video and written posts highlighting awards ceremony, winners and sponsors via all channels

University and TAFE Partners

Promotion of own alumni finalists (using ACAA provided materials)

Yes

 

As above (relevant to their alumni finalists and winners)

Share ACAA content related to their alumni winners for dissemination through their marketing channels

Other media partners *

Yes

Yes

Yes

 

Press releases to be disseminated through key Chinese media platforms and partner media channels
A media report will be provided to all partners and sponsors after the event which includes reach (social media post views), segmentation (break down of applications and events participants) and media coverage details.
*such as media operated by DFAT, Austrade, State Government, and 30+ education media (through paid media agency
Sponsorship benefits
NAMING

Exclusive naming right for  "2022 XXX Australia China Alumni Awards"

Naming right for ONE award category

DIGITIAL COMMUNICATION

Organization Video display on all awards communications during the 2022 awards period through ACAA media

LOGO display on all awards communication  during 2022 awards period through ACAA media

Organization introduction display during the promotion of sponsored

category, nominations, finalists and winner(s)

LOGO display on awards PPT

ON-SITE

 

 

 

LOGO display during awards multi-city networking events and the relevant promotions prior to the event

LOGO and organization profile display on award brochure – distributed to guests

Awards multi-city networking events tickets

Present sponsored awards

 

Awards report
Previous sponsors and participating universities: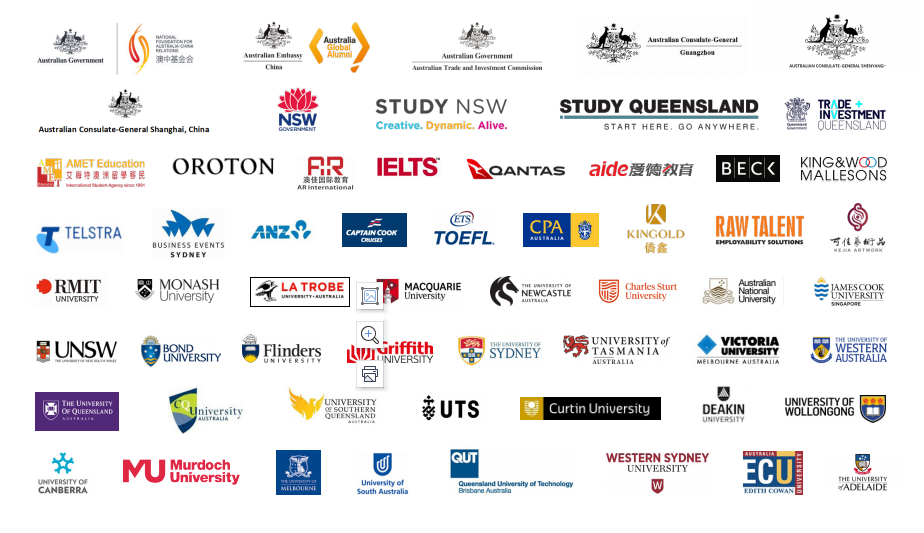 To enquire about sponsorship opportunities for the 2021 Awards, please contact us via awards@austchinaalumni.org