Since 2009, the ACAA has been working closely with the corporate sector for its annual high-profile Australia China Alumni Awards. The Australia China Alumni Awards is a valuable channel for sponsors to benefit greatly from the much-publicized connection with this dynamic and forward-thinking not-for-profit organisation.
2018 Australia China Alumni Awards
For its 10th anniversary, the 2018 Australia China Alumni Awards will be returning to Beijing in November 2018. These Awards provide a unique opportunity to celebrate the success and achievements of China-based Australian alumni.
The ACAA is currently seeking expressions of interest from the corporate sector to sponsor various Awards categories:
Awards Category
Sponsor
Australia China Alumni of the Year Award & Title Sponsorship
TOEFL®
Young Australia China Alumni of the Year Award
AIDE Education Service
Australian Ambassador's Award for Women in Leadership
The Australian Ambassador

to China

Australia China Alumni Award for Banking and Finance
Available
Australia China Alumni Award for Research and Science
Available
Australia China Alumni Award for the Arts and Creative Industries
KEJIA ARTWORK
Australia China Alumni Award for Entrepreneur and Innovation
Austrade
Australia China Alumni Award for Corporate Achievement
KINGOLD
With currently 23,000+ alumni members across China (including Hong Kong, Macau & Taiwan), this is an opportunity to engage with top alumni of Australian universities from across all industries and to build and strengthen networks within the Australia-China business community.
The Awards can help raise the profile of your organisation by communicating directly with potential customers and supporting business growth and excellence through the extended ACAA network.
Over the past 9 years, the Australia China Alumni Awards has worked with a large number of national and international organisations, including: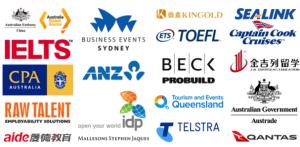 We have celebrated close to 400 winners and finalists of the Awards, including the Vice Governor of Shandong Province, Chairman & CEO of JPMorgan and other high profile alumni in senior positions across a variety of industry sectors. For further details, please see Appendix IV.
As a sponsor, you will receive valuable exposure on more than across all ACAA media channels including our partner networks for 6 months, reaching 20,000+ China-based Australian alumni, 30+ Australian universities, all ACAA partners and 200 media organisations across China.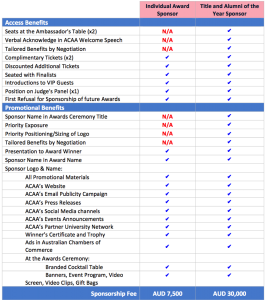 *For further details of sponsorship benefits, please click to download the 2018 Awards Sponsorship Opportunity Summary.
To enquire about sponsorship opportunities for the 2018 Awards, please contact:
Mesa Chen
Director of Development and Communications (Guangzhou)
+86 (20) 2237 3101
mesa@austchinaalumni.org
Appendix:
Appendix I: Background of the Awards
For more information about the history of the Awards, please click HERE.
Appendix II: Award Categories
For more information about the award categories for the 2018 Award, please click HERE.
Appendix III: Promotional Channels
ACAA Website
The Awards mini-site provides highly visible locations for the sponsor's logo, name and brief introduction, as well as detailing all sponsored Awards. The finalists and winners are also announced and presented on the website.
ACAA Email Publicity Campaign
The ACAA's email database has over 20,000 entries as of the end of 2017. This includes alumni as well as high-level business, media, government and university contacts. The ACAA will send out at least 5 emails to its entire database in the lead-up to the Awards, including:
Announcing the Alumni Awards;

Calling for Nominations;

Presenting Short-listed Applicants;

Advising of Event Details and Ticket Prices;

Post-awards Wrap-up Email (e.g. links to photo galleries, statements of thanks)
ACAA Social Media
The ACAA uses a wide range of social media channels to engage with its alumni, reaching out to over 17,000 followers on Weibo, WeChat and LinkedIn.
ACAA Partner University Network
The ACAA Partner University Network currently consists of 18 top Australian Universities. Each university is encouraged to promote the Awards on their websites, in their alumni publications and through their alumni e-news. The ACAA also encourages them to acknowledge all the corporate sponsors who help to make the Awards possible.
With an effective integration of media channels, the 2017 Awards set the record of a total audience of 1.2 million views through out the Awards promotional campaign (Jun – Dec).
Appendix IV: Previous Awards Winners (Selection)